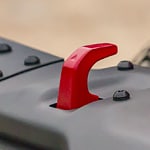 One of the most popular SUVs on the road is the legendary Jeep Wrangler. That's because the Wrangler has the ability to handle just about any type of terrain. Here are some of the most advanced capability features found on the current Wrangler.
Three Available 4x4 Systems

While most SUVs offer you one type of 4x4 system, the Jeep Wrangler offers you three different ways to get 4x4 capability onto your Wrangler. This will allow you to get the perfect 4x4 system for your vehicle.
Read More