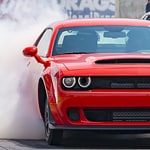 When it comes to vehicles, the exterior plays a major role in the impressions that the car gives. This can include the color of the car, the design of the car, and even the finish of the car. Fortunately, the Dodge Challenger is a popular muscle car that thrives on making good first impressions with its exterior.
Wheels
One of the most noticeable aspects of the Challenger's exterior is the stunning design of the wheels. The options for wheels range from the 18-inch satin carbon aluminum to the 20-inch brass monkey, each of which produces irreplaceable exterior style.
Customization
Not only is there a broad range of choices regarding the wheels of the Challenger, but buyers have the option to customize their Challengers with badges, stripes, and more to make them immediately recognizable on any drive. If the Dodge Challenger sounds like the perfect exterior-focused car for you, schedule a test drive at your local Ram Country Chrysler Dodge Jeep Ram, Mineral Wells today!