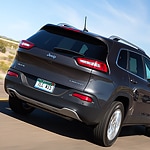 If you like to have fun on the backroads around Mineral Wells, then the Jeep Cherokee is the SUV you've been looking for. Packed with essential capability features, the Jeep Cherokee can take you off the beaten path and look good doing it. As an introduction to these impressive features, we at Ram Country Chrysler Dodge Jeep Ram, Mineral Wells offer insights into a few features that we find particularly intriguing.
The Jeep Cherokee is equipped with air intakes that are higher than normal vehicles. Additionally, specially engineered water sealing in strategic locations helps keep your Jeep Cherokee dry. Together, this allows you to ford water when the terrain takes an unpredictable turn. The Jeep Cherokee is also equipped with a flexible frame that has good articulation, which helps you to maintain control when you're on the roughest terrain.
To drive a Jeep SUV is to love a Jeep SUV. That's why we recommend coming to our dealership to take this adventure wagon for a test drive.